GLOBAL – The Global Food Diagnostics market is expected to reach USD 27.8 billion by 2030, up from an estimated USD 16.24 billion in 2022, and to expand at a CAGR of 6.95% from 2022 to 2030.
The process of diagnosis includes identifying the origin or type of phenomena, such as anomalous animal or artificial object behavior.
Food diagnostic testing is done to help prevent some foodborne diseases. It aids in giving food producers industry-wide traceability, helps them ensure that their food items are secure, free of pollutants, residues, or pathogens, and helps them give consumers correct nutritional information.
The market for food diagnostics is predicted to grow as a result of an increase in the incidence of foodborne diseases.
The employment of diagnostic methods to examine food so as to assure its safety and quality makes diagnosis an essential process.
These devices are designed to identify food contamination and contaminants that occur during the production, processing, and packaging processes.
In addition, the report notes that rising concerns about food quality and safety, stricter food safety regulations, increased food trade, and rising consumer knowledge of food safety will spur the market.
The need for new, enhanced, user-friendly, and affordable diagnostic kits and assays to enable effective monitoring of food samples will be further translated into the necessity of manufacturers improving food safety at the consumer level through an emphasis on preventing contamination and the use of hygienic practices. This will give the market lots of chances to expand.
Systems segment to take the lead
According to type, the systems segment is in the lead and is anticipated to have the biggest impact on the food diagnostics market.
Systems are easy to use, user-friendly, and provide accurate test results.
In the upcoming years, it is projected that the market for food diagnostic systems will grow even more due to the mounting demand for easy, rapid, and fast diagnostics tools, such as immunoassay, PCR systems, PCR-based testing kits, and biosensors.
Outsourcing facility segment to experience greatest CAGR
The outsourcing facility category is expected to experience the greatest CAGR throughout the anticipated period based on site.
The rise of the outsourcing facility category is attributed to the increasing number of new players joining the food diagnostics market.
The demand for fully integrated, autonomous, and specialized equipment for gathering and analyzing food samples will also fuel the growth of outsourced food testing services.
Reduced overhead and operating expenses, as well as the availability of cutting-edge testing technologies, are driving up the need for food testing facilities.
Meat, poultry, and seafood  segment to hold the largest market share
Meat, poultry, and seafood are included in the application sector which is anticipated to have the greatest market share during the projection period.
This industry includes goods made from pork, beef, poultry, sheep, mutton, fish, crustaceans, mollusks, and other seafood.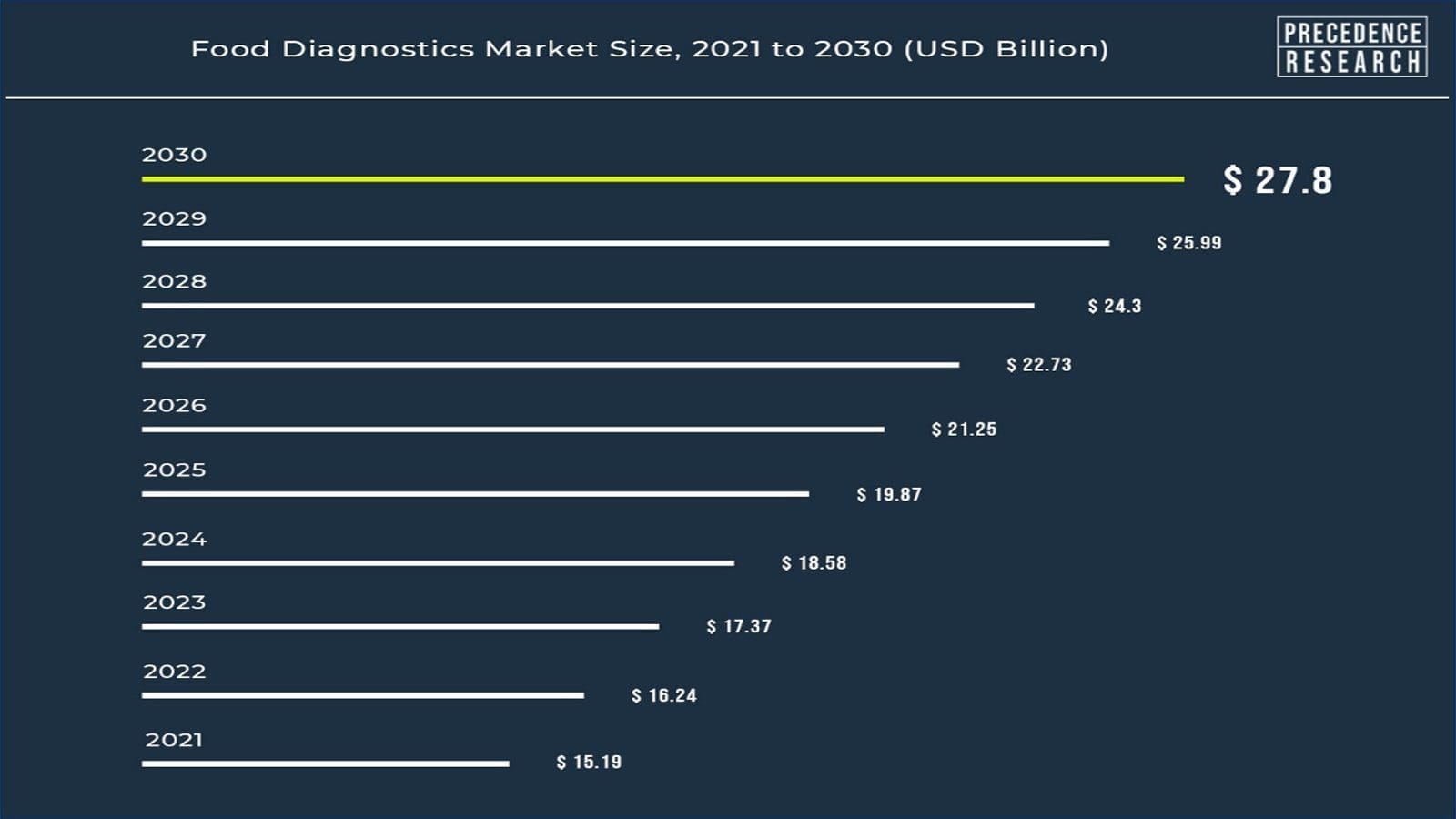 Using food diagnostics, meat and meat products are examined for a range of contaminants, such as pathogens, meat speciation, GMOs, allergies, and other residues.
In this section, a more thorough diagnostic was needed.
Europe to lead the market growth
Due to the rigorous restrictions being implemented by the regional regulatory and governing authorities, Europe retained a dominant position and was anticipated to be in the leading region during the forecast period.
Food security standards are tightening up in order to give people in local and global economies a more reliable supply of food, says the report.
The market for food diagnostics in Europe is expected to grow as a result of factors such as a rise in food adulteration cases, financial constraints, food control concerns, a lack of knowledge about the harmful effects of foodborne diseases, and a lack of hygienic practices.
Market barriers
According to the forecast, the increasing number of small-scale producers in developing countries are typically sources of hazardous food due to a lack of enough resources, experience, and contemporary requirements for food manufacturing and monitoring.
Small enterprises in developing countries might not have established fundamental methods for testing food, which raises the risk of contamination. This is a crucial factor that probably will hinder the market from growing.
Additionally, false statements and food labels used by manufacturers to convey information about a food product's nutritional characteristics might limit market expansion.
Over the forecast period, high costs and complexity related to diagnostic systems are predicted to also restrain the growth of the global market for food diagnostic systems, as reported by Precedence Research.
For all the latest food safety news from Africa and the World, subscribe to our NEWSLETTER, follow us on Twitter and LinkedIn, like us on Facebook and subscribe to our YouTube channel.